In MedioEvo Universalis there are 24 technologies and the next image show their representation: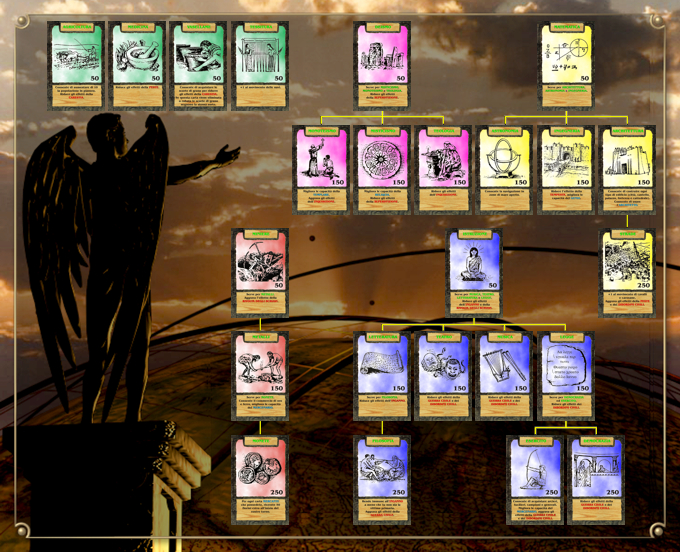 The five different colours you can see represent five differents braches.
Up to three ranks per branch with greater costs but also greater benefits
8 first level technologies
11 second level technologies
5 third level technologies.
In the first version you had to buy all the first rank technologies in order to become able to buy a second rank technology, and that you had to buy all the second rank technologies in order to become able to buy a third rank technology.
This system worked well but had a problem: it was monotonous, in the end all the players was buying the same technologies, most often in the same order, reducing the strategy choises, in conclusion we started to look for a different way, but there was a problem: we used the technologies ranks to also as player rank.
Player rank is what say if you are using level 1,2 or 3 horses, ships and so on; with the old system in order to become a rank 2 player you have to buy all the first rank technologies, in order to become a rank 3 player you have to buy all the second rank technologies.
Actually i don'r remember who of us got the idea for the new system but it worked great (and it still works great even with a few changes):
If you have less then 11 technologies you are a rank one player.
If you have more then 10 technologies (which means at least 11) but less then 19 you are a rank two player.
If you have more then 18 technologies but less then 24 you are a rank three player.
If you have 24 technologies (wich means if you get them all) you get the rank four. (rank four was up until 2005 when we decided to have only 3 ranks for everything).
There was a long list of reasons for wich we chose those specific numbers of tecnologies in order to set the player rank, i'll save you from all of them quoting only the most importants:
Buying 11 technologies require the player to trade for making enought money (he could buy all the technologies even if he don't trade at all but in that case he will spend all his money for buying technologies and he will not have enought to use the technologies he bought), but at the same time is not too long.
The second most important reason was that you didn't have to buy all the first rank technologies first (in order to buy a technology of the second rank you still have to buy the first rank of the same brach of course) there were a lot more strategy in the ways players bought technologies.
In order to relieve the game veldriss decided to put down the fourth rank turning it in an Honor Point as a reward for reaching the highest technological level.
Moreover having three levels we divided the technological evolution in a more homogenous way making each rank made of 8 technologies becoming a second rank when buying the ninth card and a third rank when buying the seventeenth, with the Honor Point as reward for buying the twentyfourth.
In this way players can now easy trade at the beginning of the game keeping enought money to become a rank two player already in the second turn of the game, let's say we busted 3/4 rounds of monotonus expansion.
In the game of the 16/04/2010 we finally introduced the new technological system dreamed for long time, not yet ultimate but we are quite there.
We still have to decide some bonus/malus to apply at the
IMPERO
or
CALAMITA'
cards, the system it's always the same, it changes only some aspects:
-you can buy only 3 technologies per turn (there was not a limit before)
-we have 32 technologies now (not 24 as before), Veldriss would like to bring the number to 34 but he's still working on it
-there are 5 different branches, with 4 different ranks (before was 3)
- you can't acquire more then 24 technologies, and between those only 3 can be rank 4 technologies.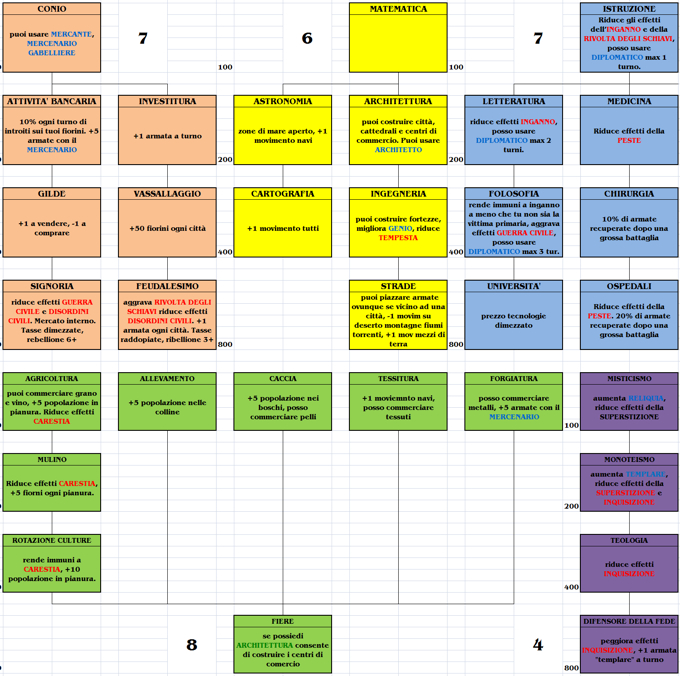 I'll post a translated scheme as soon as i have it.
Important new with this system is that all lands start with the same capacity of population, in this way first time players don't has to find out where can put 10 units, where only 5 and so on, all lands are the same, but the cities of course.
You can still improve the capacity of population with technologies as
AGRICOLTURA
(
AGRICOLTURE
),
ROTAZIONE DELLE COLTURE
(
CROP ROTATION
),
ALLEVAMENTO
(
BREEDING
) and
CACCIA
(
HUNTING
).
There is a particular rule for the branch that start with
CONIO
(
COINAGE
): this branch is divided in two branches itself but you can chose only one.
Veldriss is still working on the final technology scheme... lets say that we are near to have 30 technologies well difined and tested, still evaluating the last 6/8.
As you can see from the image below the scheme something is changed than before: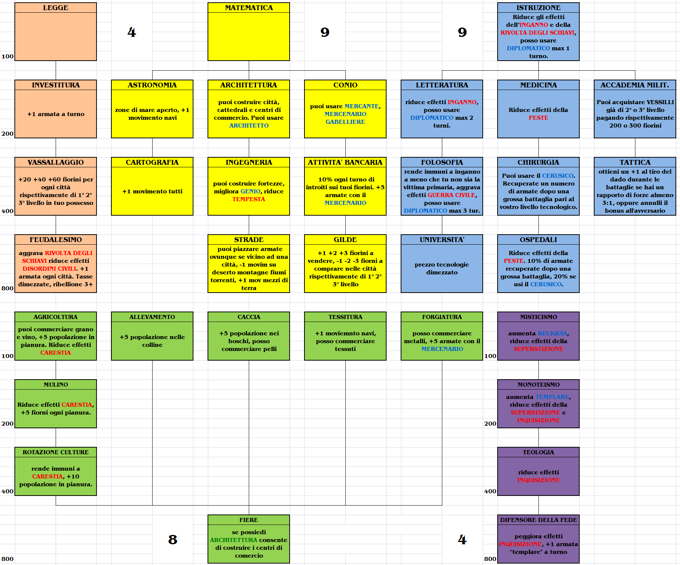 -
CONIO
(
COINAGE
),
ATTIVITA' BANCARIA
(
BANKING
) and
GILDE
(
GUILDS
) have been moved under
MATEMATICA
(
MATH
)
-
LEGGE
(
LAW
) is back
-
SIGNORIA
(
LORDSHIP
) was removed
-
ACCADEMIA MILITARE
(
MILITARY ACADEMY
) and
TATTICA
(
TACTICS
) were added under
ISTRUZIONE
(
INSTRUCTION
)
- We added the bound between the empire card
CERUSICO
and
CHIRURGIA
(
SURGERY
) and
OSPEDALI
(
HOSPITALS
)