I was thinking "to create this prototype is like being in the kitchen and having to prepare a huge Christmas dinner for 10 guests ... have a clear idea of what to prepare, procure all the ingredients ... and then when we start we must take different timing of various foods ... so you put something in the fridge the night before, early in the morning preparing the dough to rise, while there are already over the fire pans with sauce, the meat is there waiting for its turn to be put in the oven 2-3 hours, the salad can wait, better make appetizers last so stay cool, etc. etc. "
Obviously I'm already working on the lining of the large box, but I'm still on high seas...
- A little bit because I have not decided exactly how to set the graphics, I thought it similar to the previous image of the crusades of Dorè on the edge, but I would like to add the logos of companies that participated directly or indirectly to the development of the prototype (various components, 1:72 toy soldiers, wooden objects, prints, cards) ... then I would make it clear that the box is actually a double box with one half with the base game and expansion in the other half ... etc. etc.
- A little bit because I'm still trying to apply to the hardware box ... The idea is to use the hardware as that of the trunks: 1 or 2 close front, 2 rear and 8 hinges reinforced corners (because now the box is made of wood and I'm already sure that if I don't protect it I will ruin printing lining in a very short time).
I like to have a brass or gold shiny or matte.
I turned the hardware stores in the area, but no one has protective corners ...

I searched on internet for 2 days until I found a website (
http://www.ferramentatrifiletti.it
) where there were some interesting things ... I wrote a short description of my problem and initially they propose to me these three items:
rear hinge:
front closure:
another front closure:
It would not be a bad solution, probably the second front is out of place ... but the first is a little too big ... but I really like the angles here above and hinges (first item on the left) of the picture below: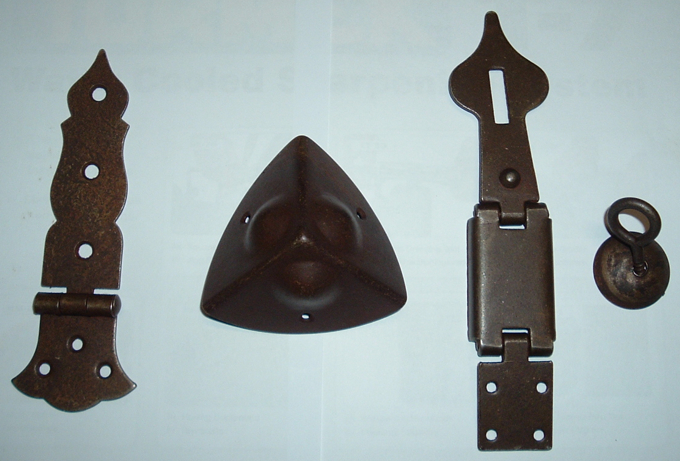 Obviously I can not have the hardware with different finishes for each piece ... so I'm still thinking ... I'm going to go to a store where they might have all... hope!

EDIT: I went to the shoemaker yesterday ... and probably he has everything I need, he will take more info from his supplier