The TEMPLAR is halfway between the MERCENARY and the LEADER.
Same armour, but the mercenary's is ruined and the leader's is luxurious, the templar at the end of the 13th century is quite rich so the armour must reflect this.
The classic templar is like in figure 03:
White tunic and red cross
White cloak and red cross
Definitely SWORD, SHIELD with red cross, HELMET
Beard
The most used helmet is the pointed one (04, 08), not the squared one (09)
It mustn't be as coarse as the mercenary, but not as elegant as the leader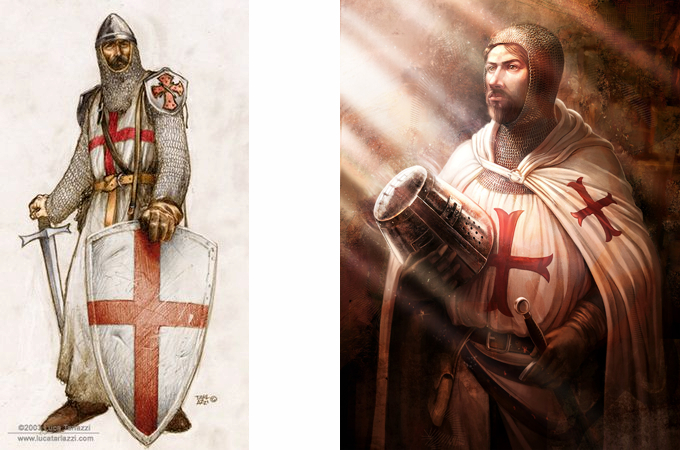 Here is the cool templar:
Obviously all white with red crosses.
Big shield on the ground, so the symbol on the tunic can be seen, sword resting but in his hand.
Detail: if you agree, I would make the templar a bit older, around 45 years old, so with some wrinkles and a graying beard.
Ok, just remember what I told you about in the LEADER: I can't have a mercenary and a templar too different in sizes! If necessary cut them all in half.
Ok for all the rest.
Hi Nicola,
Here is the finished templar
Omar
I'm not convinced about the "simple and straight" crosses…I have to look at them and then tell you something about it tomorrow morning.
Please, can you please put the cross on the chest and the shoulder like in the image attached?
The shield is ok
Let me know
Thanks, bye
Nicola
Of course, no problem
Bye,
Omar
Ok templar, a lot better like this
Bye
Nicola.
Some steps: